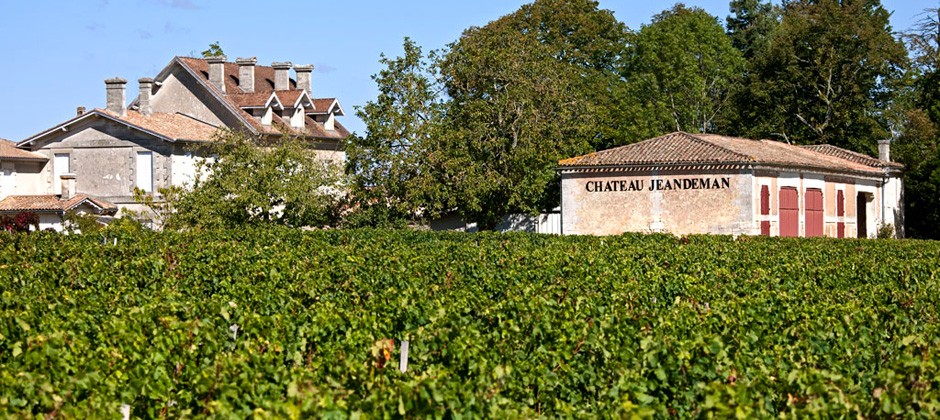 Overview
Built in the middle of the 18th century, Château Jeandeman is now know as Escotebise (listen to the wind), due to its exceptional geographical position at the summit of the hills of Fronsac. Château Jeandeman was originally bought in 1919 by Joseph Roy; his son, Jacques Roy succeeded him in 1952. Jacques Roy died in 1962 and in 1965 his widow, Françoise, got remarried to Jean-Marie Trocard, sealing the union of the families Roy and Trocard. For the last 30 years they have run Château Jeandeman and Laborde, which have grown from 16 to 42 hectares. Following in the family tradition, it is now Françoise and Jean-Marries' son, Jean, who runs the property.
Other wine from this property :
Château Jeandeman La Chêneraie
Key Information
AOC: Fronsac
Soil type: Clay & limestone
Size:30 ha
Average age of vines: 45-50 years
Annual production: 110 000 bottles
Grape varieties:
90% Merlot
9 %  Cabernet Franc
1%   Malbec
Wine making :
All vines are picked and sorted by hand. The entirety of the harvest is then destemmed and sorted again. Individual parcel management allows the production of homogenised lots. The number and size of tanks is adapted to each parcel. Malolactic fermentation in tank permits the conservation of the fruit aromas.
Visit
Visit by appointment
Groups welcome
Address & Contact
Château Jeandeman – M. Jean Trocard
Lieu-dit Escotebise 33126 Fronsac
Tel : +33 (0) 5 57 74 30 52
Mobile : +33 (0) 6 12 35 40 41